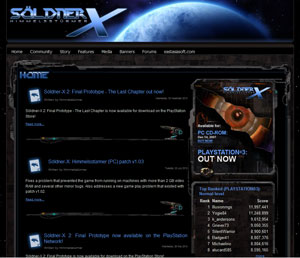 http://www.soldner-x.com
Söldner-X Himmelsstürmer
Söldner-X Himmelsstürmer is the first game published by eastasiasoft, a Hong Kong-based game publishing company. Söldner-X, and its sequel Söldner-X 2, are available for the PC and the Sony PlayStation 3™.
The site was executed in Joomla, with various custom modules, including a game tracker, used to implement client-server communication with the game in order to support game tracking, hi-scores, friend management and gamer tags. The game tracker also support serial-key checks.
This project was contracted by Asia Entertainment Technology Ltd.