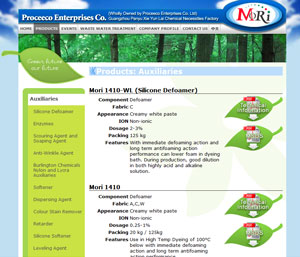 http://hkproceeco.com
Proceeco Enterprises
Proceeco Enterprises is an international conglomeration which wholesales and distributes cleaners, detergents, effluents and other industrial-strength chemicals.
In addition to a product cataloging system, they required a document management system, support for events and a feedback form. Finally, the site had to be multi-lingual.
The site itself was custom-built with PHP and a MySQL backend.