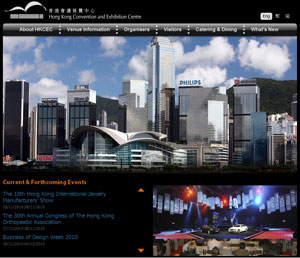 http://www.hkcec.com
The Hong Kong Convention and Exhibition Centre
The Hong Kong Convention and Exhibition Centre is a major convention and exhibition venue in Hong Kong.
They required a showcase for their many events, a gallery system as well as the ability to manage their content for the long term. They required that the event system be compatible with their event management software and the newsletter subscription system be compatible with their newsletter software. Finally, as with most websites in Hong Kong, the site had to be multi-lingual.
The site was executed in Drupal, with various contributed modules, including Views. A custom module was built to add support for searching events.