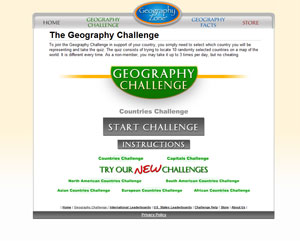 http://www.geographyzone.com
Geography Zone
Geography Zone is an international online geography-based competition and edutainment website. It has received attention from the BBC and CNN as well as other media outlet and has had over 2 million participants.
The geography quiz was developed in Flash, with various security measures implemented to prevent cheating, which has been entirely successful so far. The site itself was custom-built with PHP and a MySQL backend.
Features include a real-time leaderboard, membership and groups. Performance and security were prioritized as traffic was high. Webserver, MySQL and PHP optimization were key to implementing the site.
Geography Zone is a web property of A Broader View..